Look Younger
Without Surgery!
Look Younger MD, THE Preeminent Medical Spa in Las Vegas and Henderson--was founded by Garry R. Lee, MD, here in February 2001. Recognizing at the beginning that the very Best Plastic Surgeons focused upon doing surgery--and delegated their non-surgical treatments to their assistants--he decided to dedicate his Medical Spa on helping you Look Younger, Without Surgery.
Learn More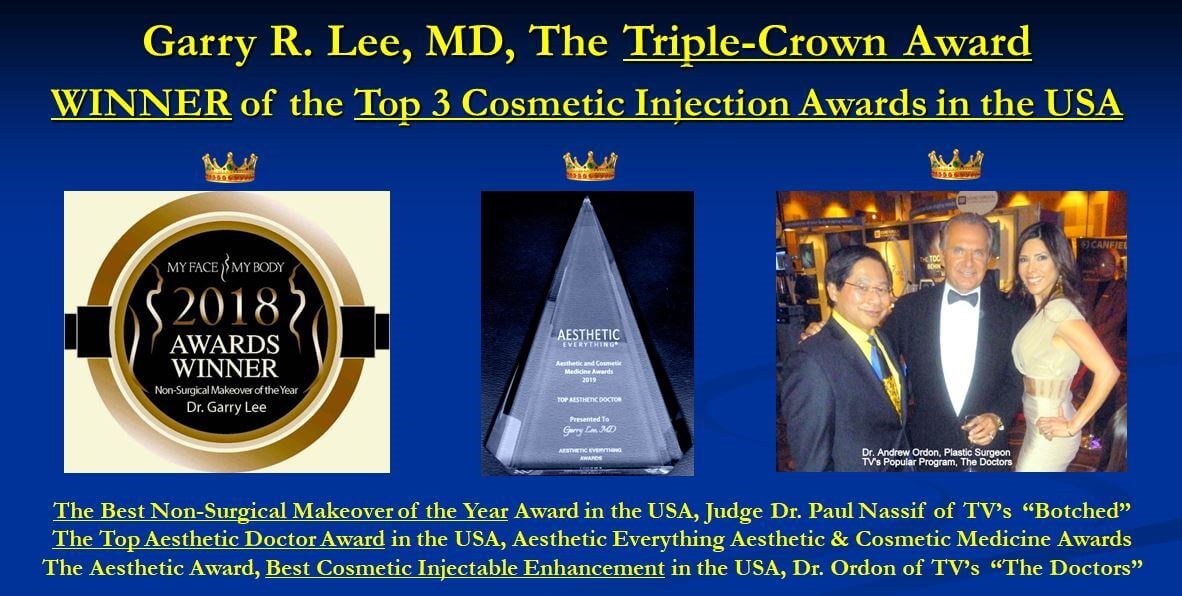 Dr. Lee is the National WINNER of the Top 3 Cosmetic Injection Awards in the United States--in direct competition with hundreds of the Top Plastic Surgeons, Dermatologists, and Aesthetic Physicians in the country from Beverly Hills to New York City. He specializes in Botox, Juvederm, Dysport, Microneedling, Platelet-Rich Plasma, and the O-Shot and is the Physician Instructor for Allergan, one of only 3 selected from 700+ Botox & Juvederm Clinics in the State of Nevada. He is a National Lecturer on cosmetic wrinkle injections, the Author of an Amazon.com Best Seller in Medical Procedure, and an Internationally renown Leader in the growing field of minimally invasive aesthetic medicine. In November 2019, Dr. Lee WON his 4th Top Award as Medical Aesthetic Practitioner of the Year--USA.
?
?
?
?
?
?
?
?
?
?
?
?
?
?
?
?
Garry R. Lee, M.D.
Garry R. Lee, M.D. is a physician and nurse instructor for Allergan (BOTOX and Juvéderm), Air-Tite (microcannula), and Eclipse, PRO-NOX (laughing gas), and AccuVein (laser vein illuminator). He served on the Allergan Medical Facial Aesthetics National Advisory Board, the Allergan New Core National Advisory Board, and the Galderma (Dysport and Restylane) National Advisory Board as one of the preeminent physician innovative leaders in the USA.
At Look Younger MD, Dr. Lee is internationally recognized for his amazing non-surgical cosmetic procedures, for which he is sought after as a dynamic speaker and an acclaimed physician instructor. His most popular wrinkle injectables include BOTOX, Dysport, Juvéderm, Restylane, microneedling, & PRP.
Meet Dr. Lee
?
?
?
?
?
?
?
?
?
?
?
?
?
?
?
?
"Judi is amazing she did my dermaplaning and facial and It was hands down the most relaxing and amazing experience. My skin feels new and rejuvenated. If your looking for someone who takes their time with your skin Judi is your girl !!! Also Dr. Lee did my lip fillers and Botox on my forehead and crows feet and WOW AMAZING! He is patient listens to what you want and over achieves every time. His work is magazine worthy and you leave feeling so confident with minimal bruising and swelling with his top of the line techniques. Stop waisting your time trying to find a good Dr. because he's your guy ! If I could rate this place a ten I would ! I can't wait to go back for more treatments !!"
B.G.
Yelp
"What a great experience! The office is very nicely decorated, the employees are nice, friendly and knowledgeable. Dr Lee is a very nice wise man. I really enjoyed our conversation about my beauty needs and our conversations about things in general. He is not pushy he is very honest and makes you very very comfortable. He has a very unique technique, and because of that I had no bruising and only minimal swelling. I have learned in the past few years that the products have the same price anywhere you go, but I like to go to Dr Lee because he is exceptional, in fact he teaches other doctors how to inject fillers. Dr Lee is absolutely the best and I will not go anywhere else!"
C.S.
Yelp
"Dr. Lee is a master at his craft. He has a delicate and precise approach that made the procedure enjoyable. I had facial fillers applied with no discomfort and or downtime. The results are just what I wanted. I would recommend Dr. Lee to everyone, you will not be disappointed."
S.M.
Yelp
"I went to Dr Lee for Botox and Juvederm. The staff are amazing, friendly and fun. I am very satisfied with my results."
J.H.
Google
"Had my lips done by the amazing Hieu Truong! She is so wonderful! I love her work! I can't wait for my next session, I want to do a plumper look!"
L.A.
Yelp
About Us