Worried about pain from cosmetic injections?
Look Younger MD, located in the Las Vegas, NV area, is a leader in the State of Nevada to offer laughing gas (nitrous oxide) with the PRO-NOX system to maximize your comfort...and promote utter relaxation. Our patients have been transformed from fear--to laughter--throughout the whole procedure with laughing gas!
PRO-NOX is made up of 50% oxygen and 50% nitrous oxide that each patient personally inhales as needed, much like how a hookah is administered. It takes effect in seconds to bring immediate relief of anxiety, is easy and effective, and dissipates in just minutes for your safety on your drive back home. During your consultation with trained aesthetic physician Dr. Garry Lee, he can discuss with you the benefits of using PRO-NOX for your cosmetic treatment.
Reviews
"Judi is amazing she did my dermaplaning and facial and It was hands down the most relaxing and amazing experience. My skin feels new and rejuvenated. If your looking for someone who takes their time with your skin Judi is your girl !!! Also Dr. Lee did my lip fillers and Botox on my forehead and crows feet and WOW AMAZING! He is patient listens to what you want and over achieves every time. His work is magazine worthy and you leave feeling so confident with minimal bruising and swelling with his top of the line techniques. Stop waisting your time trying to find a good Dr. because he's your guy ! If I could rate this place a ten I would ! I can't wait to go back for more treatments !!"
- B.G. /
Yelp /
Mar 19, 2019
"What a great experience! The office is very nicely decorated, the employees are nice, friendly and knowledgeable. Dr Lee is a very nice wise man. I really enjoyed our conversation about my beauty needs and our conversations about things in general. He is not pushy he is very honest and makes you very very comfortable. He has a very unique technique, and because of that I had no bruising and only minimal swelling. I have learned in the past few years that the products have the same price anywhere you go, but I like to go to Dr Lee because he is exceptional, in fact he teaches other doctors how to inject fillers. Dr Lee is absolutely the best and I will not go anywhere else!"
- C.S. /
Yelp /
Feb 27, 2020
"Dr. Lee is a master at his craft. He has a delicate and precise approach that made the procedure enjoyable. I had facial fillers applied with no discomfort and or downtime. The results are just what I wanted. I would recommend Dr. Lee to everyone, you will not be disappointed."
- S.M. /
Yelp /
Feb 27, 2020
"I went to Dr Lee for Botox and Juvederm. The staff are amazing, friendly and fun. I am very satisfied with my results."
- J.H. /
Google /
Feb 13, 2020
"Had my lips done by the amazing Hieu Truong! She is so wonderful! I love her work! I can't wait for my next session, I want to do a plumper look!"
- L.A. /
Yelp /
Jan 23, 2020
Previous
Next
PRO-NOX is beneficial for any individual who is experiencing any level of anxiety about their treatment. Before PRO-NOX is administered, Dr. Lee will evaluate your medical history, current medications, and concerns to make sure that the sedation technique is a good choice for you. The nitrous oxide gas works to make you feel exceptionally comfortable, though you remain awake throughout your procedure. However, it is not suitable for individuals who have trouble breathing, have extreme phobias, have chronic obstructive pulmonary disease (COPD), or have certain other conditions.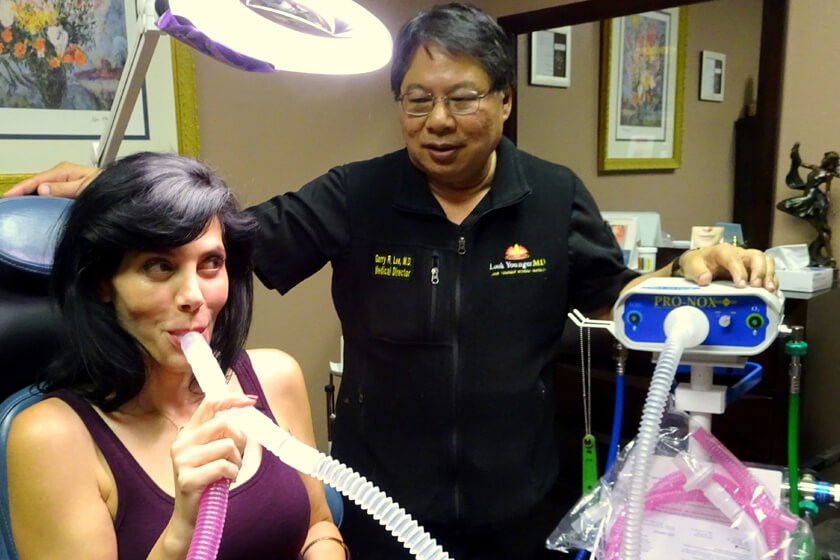 PRO-NOX is administered through a breathing device that is placed into the patient's mouth. Each patient personally inhales what they feel is necessary--so total control remains expressly with you! You may begin to notice some slight tingling in your arms and legs, along with a feeling of warmth, euphoria, or well-being as the gas begins to work. After the treatment is complete, the gas will be turned off and the effects of the PRO-NOX wear off rather quickly. Patients may resume their normal daily activities directly upon leaving our facility.
Experience Anxiety relief
If you are experiencing any level of anxiety about receiving a cosmetic treatment, ask Dr. Lee about PRO-NOX during your initial consultation. At Look Younger MD, we want you to feel maximally comfortable during your entire treatment process. To learn more, contact our Las Vegas, NV area facility today.
Related Procedures